Solutions
PHOTOVOLTAIC
Photovoltaics have never been so powerful

Targeted specialization
Today, the latest generation photovoltaics already provides great benefits for companies, and in the future it will play an even greater role in gaining a competitive advantage compared to the other players on the market.
More and more companies are investing in self-sufficiency, sustainability and energy cost control.
The initial investment on photovoltaic systems will later transform into profits for your company, which will also improve its brand perception and image.
Respecting the environment with the use of renewable energies is a synonym for corporate ethics and a strong social commitment.
Innovation
Companies orientated towards technical innovation are also aware of the advancements in the world of improvement and use of renewable energies.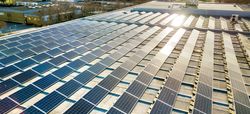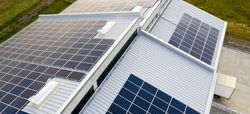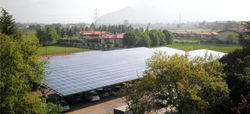 Our Packages
Efficiency Package
Ideal for companies with the need for new energy. This package includes photovoltaic modules and inverter, providing constant monitoring both on site and remotely.
Efficiency Premium Package
For companies who aim only at excellent performances. This package includes highly efficient photovoltaic modules combined with high-end inverter systems, providing constant monitoring both on site and remotely.
Efficiency Extreme Package
For companies who prefer high quality and technology. This package includes photovoltaic modules and highly upgraded inverter systems, providing analytical monitoring both on site and remotely.
Revamping SUN Package
If your company has already installed a photovoltaic system but its yield keep worsening, we can help you in revamping it. With Elettropiemme, your system will be efficient again and will see its efficiency and lifespan improve.
The EPM-PLUS system
Safe saving
Thanks to an accurate preliminary check, Elettropiemme can design and provide a specific solution for your needs, while optimizing the quality/price ratio to further improve the return on investments. In this way both efficiency and savings are guaranteed.
Know-how and specialization
We assure you that only highly trained and formed workers will follow your project, its installation, testing and after-sale assistance. Our over 50 years of activity are the best reference of reliability and competence.
Time and safe investments
Accurate studies and quotations, combined with our company stability, guarantee our compliance with contractual agreements. With the EMP PLUS contract our commitment to your project will be set in stone.
Guaranteed design and manufacturing
Our products are not the result of improvisation but stem from our knowledge of the sector, technical updates and partnerships with the main renowned players of the supply chain.
Technical assistance within 24h
Is there a problem? We are here for you. In the next 24 h from your call you will receive support from our team of technician to rapidly solve the issue.
Zero extraordinary maintenance
With systems made by Elettropiemme you will hardly need extraordinary maintenance; our products do not normally require it.
Optional
Planned maintenance contract
Would you like to always keep your system efficient?
Elettropiemme provides a guaranteed constant maintenance to your system, keeping its performance always under control. Our team takes care of your system, monitoring its yield and evaluating the need of repairs or the replacement of modules or other system's components.
Generated energy management system
We provide tools to avoid wastes and to gain the most out of your system. Through monitoring and control devices for the generated current, your company can drastically reduce wastes by transferring the energy only where it's needed. Building automation solutions can offer you the opportunity to make your company more efficient and sustainable.