Solutions
Lighting industry
Compared to traditional systems, LED lighting solutions represent an obvious evolutionary leap, able to reduce consumption and to bring much higher performance in energy efficiency, durability and quality
Advantages
Savings
50% less consumption than neon, 16 years of savings on maintenance and spare parts costs. 70% yield after 50.000 hours of service, higher efficiency coefficient and an estimated average life span of 100.000 hours.
Quality
Our lighting systems do not produce heat, do not contain mercury, are vibration resistant, have high colour resolution and an instantaneous switch-on.
Safety
Reduction of waste disposal costs thanks to a longer lifecycle than every other system, absence of mercury and photobiological safety and no emission of UV rays.
Services
Revamping Light
Replacement of lighting devices through revamping with high efficiency LED solutions, while leaving the power system untouched. The lighting level is also checked, adding automation components to manage the switch-on as required by current regulations.
A new light
Manufacturing of a new lighting system with high efficiency LED lighting devices.
A new vision
Manufacturing of a new lighting system with high efficiency LED lighting devices with integrated remote control and monitoring systems, in order to maximize efficiency and control company's consumption.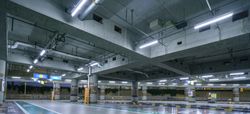 The EPM-PLUS system
The EPM-PLUS system includes all the phases of design, manufacturing and maintenance of a plant, regardless of the chosen energy-saving solution.
Safe saving
Thanks to an accurate preliminary check, Elettropiemme can design and provide a specific solution for your needs, while optimizing the quality/price ratio to further improve the return on investments. In this way both efficiency and savings are guaranteed.
Know-how and specialization
We assure you that only highly trained and formed workers will follow your project, its installation, testing and after-sale assistance. Our over 50 years of activity are the best reference of reliability and competence.
Time and safe investments
Accurate studies and quotations, combined with our company stability, guarantee our compliance with contractual agreements. With the EMP PLUS contract our commitment to your project will be set in stone.
Guaranteed design and manufacturing
Our products are not the result of improvisation but stem from our knowledge of the sector, technical updates and partnerships with the main renowned players of the supply chain.
Technical assistance within 24h
Is there a problem? We are here for you. In the next 24 h from your call you will receive support from our team of technician to rapidly solve the issue.
Zero extraordinary maintenance
With systems made by Elettropiemme you will hardly need extraordinary maintenance; our products do not normally require it.