FLY Talent Academy
We have an ongoing commitment to help our talent reach their full potential. With FLY Gefran Talent Academy, we build the company of tomorrow by creating value for the Group and its people today
Our Group's
prospectives
The Group faces this great challenge by systematically valuing its partners, where talent does not mean identity, but an unique set of characteristics of every individual. 
Talent is ability, passion, concentration, courage and resiliency. Talent is not age, but the ability to innovate and renovate oneself. 
Fly experiences combine tools available to both new hires and people already part of the Group.

Assessment
Individual and group assessments are used to map the level of specific skills so as to can highlight strengths to build on and gaps to fill with regard to job or project requirements.
Development pathways
Tailor-made development pathways are put together using proven methods such as coaching, tutoring, sparring partnerships and on-the-job training using the STAR model (Situation, Task, Action, Results).
Specialist courses
In-depth specialist courses and master's degrees are offered to develop technical skills.
MbAs and postgraduate degrees
MBAs and master's degrees develop management skills and offer the opportunity to interact with peers in different subject areas, an invaluable way of influencing and learning from others.
Ongoing training
Ongoing training is provided.
Focus Group
Workers constantly participate in specific focus groups to promote engagement with the company aims and priorities as well as the process at continous improvement.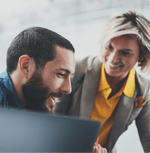 FLY — Gefran Talent Academy
It's an initiative for all those who want to make a difference and search for the responsibility, not the status, of being able to answer every challenge by transforming them into opportunities.  
With this awareness in mind, during the years we have activated and promoted various programs, initiatives and partnerships. These actions are an integral part of our strategic vision toward the development of potential in our company.