Technology harnessed for customers
Due to ongoing investments in research and development, as well as close partnerships with the major manufacturers of machines and systems, Gefran is an innovator that creates competitive advantages for its customers.
Our facts and figures
14 %
of our workers are dedicated to R&D
3000 hours
annual hours of training
6 %
of profits are reinvested in R&D every year
Commitment to R&D
Gefran invests a significant share of revenues in R&D and staff training every year. Highly specialized engineers, designers and software developers work in the two R&D centres (in Provaglio d'Iseo and Gerenzano) in close partnership with prestigious Italian and foreign universities. The company has developed and filed numerous patents that make its products synonymous with innovation.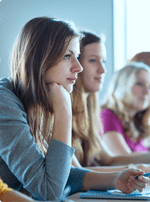 Gefran and universities
Universities are critical resources for the enterprise system because they ensure continuous scientific research and knowledge transfer.
Constant stimulation of innovation to guarantee avant-garde solutions for our customers is an essential factor in Gefran's growth. This is why we have always worked with universities and research centers.
This cooperation takes many forms: Gefran finances research projects (specific and on demand) and receives many doctoral candidates and apprentices. Every year, we organize specific courses for a few universities, and provide our products for constant updating of automation laboratories.
Gefran has developed an entirely new way of interacting with students to further strengthen this bond. INNOWAY is Gefran's innovation incubator, a proper experience where the company provides budget, resources and know-how to allow the transformation from brilliant idea to real project.